RAMADHAN
1st of Ramadhan will be on either Tuesday 13th or Wednesday 14th April. Please check on Monday evening for the start of Ramadhan announcement.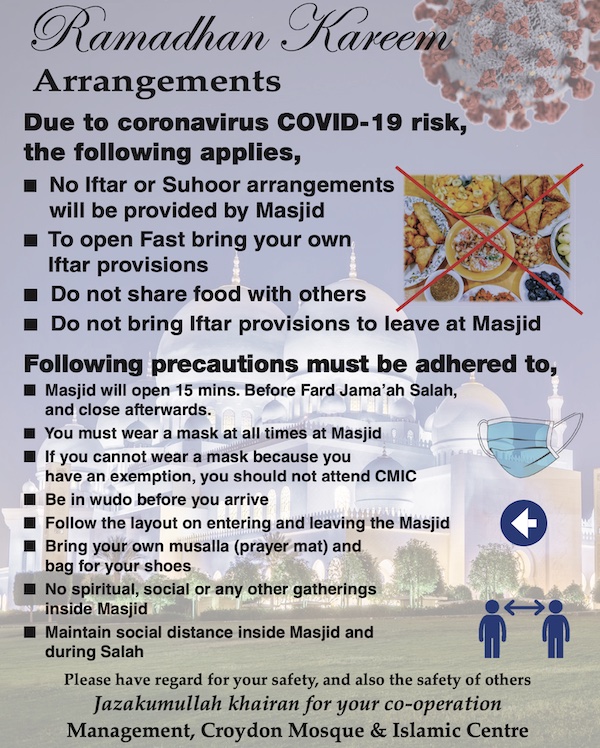 DAILY JAMA'AH PRAYERS AT THE MASJID
Note: These guidelines may change at short notice to keep inline with with Government Covid-19 regulations. Please visit the website daily to see the latest guidelines
Croydon Masjid is open for all congregation prayers & Jumuah salah.
IMPORTANT: 1) Maintain Social Distancing 2) Wear a face mask 3) Come with Wudhu 4) Bring your own prayer mat (Updated: 28/03/2021)
Due to Coronavirus Covid-19 Risk
DO NOT ENTER – IF:
You have any of the symptoms of COVID-19
Have returned from overseas within last 14 days
Are over the age of 70 yrs. or with underlying medical condition.
ENTERING THE MASJID (At Your Own Risk), FOLLOWING PRECAUTIONS MUST BE ADHRED:
Masjid will open 15 mins. before Farad Jama'ah Salah, and close afterwards.
Required by LAW - must wear a mask covering both the mouth and nose.
Must do your ablutions before coming to the Masjid.
Bring your own prayer mat and bag for your shoes.
No spiritual or social gatherings inside Masjid.
Follow the layout on entering and leaving the Masjid.
Must keep 2 meters apart inside masjid and during Salah.
The current Government limits are 15 for weddings and 30 for funerals.
Jazakumullah Khairan for your co-operation
APPEAL FOR FUNDING
The donation income has reduced significantly due to the pandemic. The Masjid needs your support desperately. Please help by making an online Lillah donation or setting up a standing order to:
Name of Account: Croydon Mosque & Islamic Centre
Sort Code 60-15-16, Account No. 02852101 Or
For reference purposes, please use your name. For more information please contact Rafiq Razzak 07932 672 484
Jazakumullah Khairan - may Allah reward you with much good